Insane Video Shows Speeding Car Using Tow Truck As a Ramp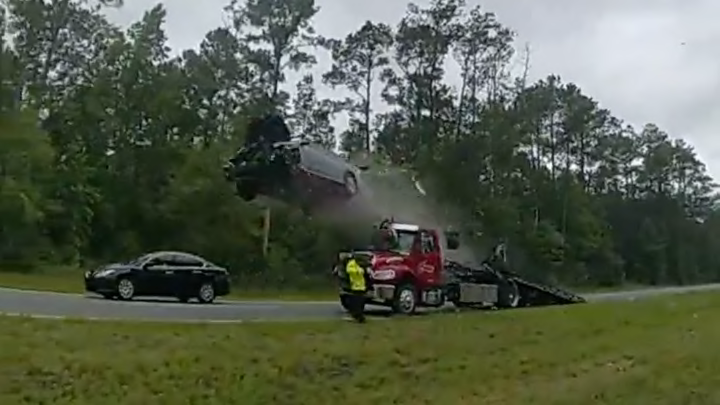 Dash cams are everywhere and have inured a public used to seeing wild stuff happening on the roadways, but every now and again something happens that is legitimately shocking. A speeding driver somehow using a stationary tow truck as a ramp and going flying into the sky qualifies.
The Georgia State Patrol now confirms a Tallahassee woman was behind the wheel of a car that went airborne in a wild crash caught on tape last week.
The video came from the body cam of a Lowndes County Sheriff's deputy who was working a crash on the opposite side of Highway 84.
The video shows a car driving up the back ramp of a tow truck at full speed, going airborne and flipping approximately 120 feet in the air before hitting another vehicle.
The deputy on the scene rushed to aid the 21-year-old driver from Tallahassee who suffered from serious injuries but survived the crash. She was transported to South Georgia Medical Center.
It's tough to imagine how this happened. Visibility looked pretty good and there didn't appear to be any attempt to hit the brakes. Which someone makes the video even more unbelievable.