JuCo Baseball Coach Resigns After Team Caught With Communication Devices in Their Helmets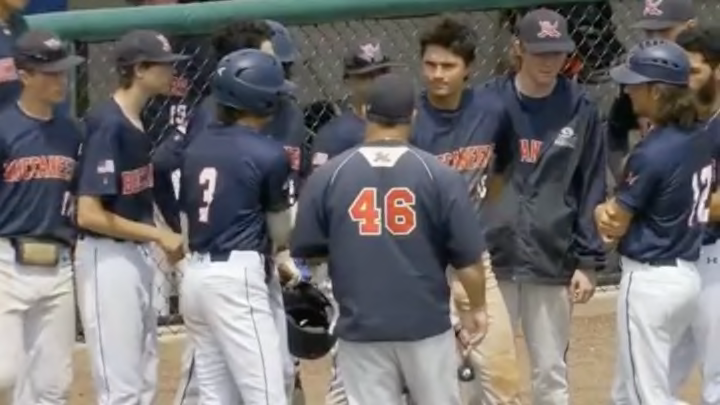 Atlantic Cape Community College baseball coach Rodney Velardi, like the rest of us, witnessed what happened to the Houston Astros and their sign-stealing controversy and didn't recoil in horror. He instead apparently saw an opportunity for that to work for his guys in the Garden State Athletic Conference because, well, who would expect such a sophisticated operation at that level?
Like Icarus, though, the Buccaneers flew too close to the sun on wings of in-helmet communication devices and were busted in a May 4 game against Rowan College Gloucester County. Suspicious arose for the Roadrunners when a freshman pitcher asked Rodarunners coach Rob Valli if he had been tipping pitches because Atlantic Cape has some really good swings in defensive counts. Those suspicious were confirmed when one of the device-wearing players forgot to turn the volume down on the basepaths.
"I didn't believe it," Valli said. "I just though, nah. I didn't believe it. I didn't not believe him, but for that sophisticated of cheating, I just didn't think they would do it. I didn't think they would do it. For me, I wasn't going to go right up there in the first inning. We had to confirm that's what it was. So, second time up, those same guys got on, and he was confirming with me the whole time. Once those guys got on, he's saying I hear it. I hear it."
That's when Valli went to the umpire and asked him to check two Atlantic Cape helmets. There was one out in the bottom of the third inning.
"(He was) as surprised as I was," Valli said of the umpire. "The reaction was I went out and said they have headsets in their helmets, and he seemed surprised. … He's like how do you know? I explained our first baseman has been hearing this now and we just confirmed it the second time these guys got on base. In 30 years, I've never asked an umpire to check a helmet, but I'm out here now, and I'm telling you now you're going to find ear pieces in these helmets, and he goes OK, let's check."
The umpire did, finding earpieces in the helmets of both the runner on second base, and the one on first.
In the clip above you can see a bunch of people who know they've been caught redhanded and are trying to come up with some sort of plausible explanation, which had to be quite difficult. Like what do you say? We just wanted our players to feel relaxed at all times so we're pumping in a constant stream of Enya?
The Courier Post has an excellent explainer on the resulting investigation and the logistics involved with potentially using the broadcast feed and time delays and all of that good stuff. Rowan would win both games of the doubleheader to sweep the series. Atlantic Cape's findings don't present a smoking gun but also reveal that college was just as surprised to be using resources on this as everyone else.
"Coach Velardi at the time said that those (devices) were just used for practice," she explained. "We found out after the fact that those (devices) had even been purchased. The college was not aware of that. We were not aware they were being used, electronic devices. We could not say whether there was actual malfeasance at the field (that day)."
The net-net here is Velardi resigning after 13 years at the helm the team becoming a main character online until the next thing comes up. A huge price to pay for a careless mistake or the final sign that taking such a risk to win games at such a relatively small scale was never worth doing.